CCM in the News
Part 1: Homeless families get a fresh start through CCM
Posted: Sunday, July 20, 2014 11:13 am | Updated: 9:03 am, Mon Aug 4, 2014.
By Joanie Morris Reeder Special to the Independent Tribune
Photos courtesy of James Nix (Independent Tribune)
First in a three-part series

The first blow came in 2003 when Pillowtex shut down, resulting in the largest mass layoff in the history of North Carolina. Then, the collapse of the financial and housing markets in 2008 contributed to Cabarrus County having the highest percentage increase of home foreclosures in the state. Unemployment soared and remained high for years.
And families lost their homes.
Cabarrus County's annual Point-In-Time count of homeless people has shown significant increases in the number of homeless in the community year after year. Most alarming is the rate at which the number of homeless families continues to rise.
In response, Cooperative Christian Ministry (CCM) began expanding its shelter and housing programs in 2008 to address the need for safe solutions for families with children. Since that time, CCM has increased capacity by adding new programs and expanding existing programs that serve the community's homeless.
In 2012, CCM and the Piedmont Regional Committee established the Cabarrus County Homelessness Task Force, a group of 17 agencies that meets quarterly to identify needs, assess network capabilities, coordinate efforts to address needs and identify gaps in the local services for the homeless.
"The goal is to address the gaps in our local network of resources and to strengthen the services available to individuals and families in housing crisis," CCM Executive Director Ed Hosack said last month. According to the task force, gaps that exist today include adequate resources for homeless families, services for the chronically homeless, alternative housing for single females and options for young adults aging out of foster care.
CCM Director taking hard-earned sabbatical
Photo by James Nix \ This email address is being protected from spambots. You need JavaScript enabled to view it.


Posted: Sunday, March 16, 2014 8:21 am | Updated: 7:48 am, Wed Mar 19, 2014.
By Jessica Groover Pacek | This email address is being protected from spambots. You need JavaScript enabled to view it.
Jessica Groover Pacek
Posted on Mar 16, 2014by Jessica Groover Pacek
KANNAPOLIS – After nearly 10 years devoted to directing and expanding Cooperative Christian Ministry's caring reach into the community, Ed Hosack will begin a three-month sabbatical on April 7.
Sabbaticals are often taken by leaders of churches and professionals in the health care and education fields, but not often by leaders in the local nonprofit world, said Hosack, executive director of Cooperative Christian Ministry (CCM).
"The news over the last couple of years has been filled with nonprofit executives being burnt out and leaving their posts," Hosack said. "I think the sabbatical is a proactive way to keep strong leadership in the nonprofit sector and to develop new leadership within the nonprofit sector."
Hosack said taking three months to rest, travel, read and study, among his other plans, was not his idea, though.
"This is something our board of directors proposed and provided to me," Hosack said. "I consider it a gift."

While the sabbatical is intended to allow Hosack time for renewal and rejuvenation, he said studies have also shown that sabbaticals strengthen organizations and increase collaboration among the staff and board.
Joanie Reeder, development associate for CCM, said she believes the staff is excited about Hosack being able to take this time for rest and for the challenge the staff will have. "The relationships in the staff are strong, but it's going to make them even stronger," Reeder said.
The ministry has grown significantly over the past eight or nine years, Hosack said, and the sabbatical is timely. "We have put in place a number of people in leadership roles in the organization," Hosack said. "We're finally at a place where it seems we can do this, but it's also at a time when it's going to benefit the organization, for all employees to be challenged to step up and demonstrate their abilities."
As Hosack reflected on those years, he highlighted some of the ministry's accomplishments, including the two strategic plans CCM has developed and implemented. Hosack said he is proud of the way the ministry and the community have responded to those plans and built them around the changing needs of the community. The ministry has also doubled in size but remains a local community service organization, Hosack said. It provides services out of more than 30 buildings but only owns the crisis center and five of the teaching houses, he said.
"We have seen growth and support from every facet in the community: individuals, businesses, churches, foundations. That's probably the most satisfying for me," Hosack said. CCM has also added three new shelter and housing programs since 2010, he added. And he believes CCM is about to grow again, expanding and adding programs to meet the needs for shelter and housing. "The one overwhelming need in Cabarrus County that continues to grow is the need for stable housing," Hosack said. "The number of individuals who are homeless or in housing crisis continues to go up. ... CCM is positioned to address those needs, but we will not do it alone. I believe, as we identify those needs and lay out CCM's plans to address those needs, our community will respond to provide the resources to meet the needs of individuals and families that are homeless or facing homelessness."
As CCM prepares for these upcoming changes, Hosack said it is important for the community to have confidence in the board and staff and to express its support.
"I hope, as we begin to identify ways Cooperative Christian Ministry will address new challenges in the community, the community will see the need for additional resources, additional buildings and additional staffing," Hosack said. "It's my hope that CCM is demonstrating the type of leadership and stewardship that will increase the community's confidence and willingness to invest in CCM."
Contact reporter Jessica Groover Pacek: 704-789-9152
Cabarrus County Homeless Point-In-Time Count
CONCORD – Cooperative Christian Ministry will coordinate the Cabarrus County Homeless Point-In-Time (PIT) Count again this year on Wednesday, Jan. 29 and Thursday, Jan. 30. Several Cabarrus County agencies will participate, counting individuals in the county who are homeless on the night of Jan. 29.
David Maulden, CCM's director of Shelter & Housing, who is coordinating this year's count, said the information collected about the homeless population in this one night will help track progress towards goals to end homelessness, as well as provide information about homelessness to local, state and national leaders. "We consistently do it the last Wednesday of January so that over the years, we can get an accurate snapshot of the homeless population and how it changes," said Maulden. He does not expect to see an improvement over last year's numbers. Last year showed a 54 percent increase in the identified population – a jump from 183 in 2012 to 283 in 2013. Yearly changes allow organizations to see trends developing that may not be seen in regular counts.
"Our Point-In-Time counts for the last five years have indicated a dramatic increase in the number of homeless families and have influenced CCM's development of programs to serve those families," said Executive Director Ed Hosack.

The PIT count is supervised by the US Department of Housing and Urban Development, which defines homelessness for this count as a person who is "literally homeless" who has a nighttime residence in a place that is not meant for human habitation, including vehicles, abandoned buildings, campgrounds, parks and bus or train stations. In addition, it includes a person "living in a publicly or privately operated shelter designed to provide temporary living arrangements (including congregate shelters, transitional housing, and hotels and motels paid for by charitable organizations, or federal, state and local government programs)." For this count, HUD does not include individuals or families living in doubled-up situations (temporarily with friends or family).

If you have any information that will ensure a homeless individual or family living in Cabarrus County or the city of Kannapolis is "counted," please call David Maulden at 704-786-4709, ext. 823, or email This email address is being protected from spambots. You need JavaScript enabled to view it.
CCCF Awards $5,000 Grant to CCM's Project Independence
February 24, 2014
CCCF Awards $5,000 Grant to CCM's Project Independence
CONCORD – Cooperative Christian Ministry (CCM) announces today it has received a $5,000 grant from the Cabarrus County Community Foundation for CCM's Project Independence. CCM's network of shelter and housing opportunities through My Father's House, the Mothers & Children Housing Ministry and Teaching Housing program assisted more than 43 households comprised of 137 individuals last year in Cabarrus and southern Rowan counties. The grant from the Cabarrus County Community Foundation will be used in CCM's Teaching Housing Program to provide shelter and housing as well as supportive case management.
"CCM will continue to expand on our existing shelter and housing services and explore opportunities to create new resources in our community," says CCM Executive Director Ed Hosack. "The Cabarrus County Community Foundation is a faithful partner made up of committed decision-makers who know our community. Gifts like this one, dedicated to addressing the housing crisis in our community, are critical for developing new solutions."
"The number of homeless households has significantly increased in Cabarrus County in the last three years," says Pat Horton, Chairman of the Board of the Cabarrus County Community Foundation. "(CCM) has significantly expanded its efforts to address this issue. We are happy to support them in this effort by awarding this grant."
The CCCF is governed by a local Board of Advisors, including Horton; David Gordon, CPA, vice chair; Gary D. Walker, immediate past chair; Troy Barnhardt; Dr. Jo Anne Byerly; Benita L. Conrad; Alan P. Davis; Betsy Burchfield Handler; Vanessa R. House; Mike Legg; Todd Phillips; Trent D. Propst; Alex Rankin; Bill Reames Jr.; Bill Rinker; and Peggy Wagstaff.
Information about the Cabarrus County Community Foundation and how it might assist an individual's philanthropic objectives can be obtained by contacting the Foundation For the Carolinas Board and Grants Specialist Ayanna Wakefield at 704-973-4543 or This email address is being protected from spambots. You need JavaScript enabled to view it. , or by contacting any member of the board.
Pastor Breakfasts Foster Church Cooperation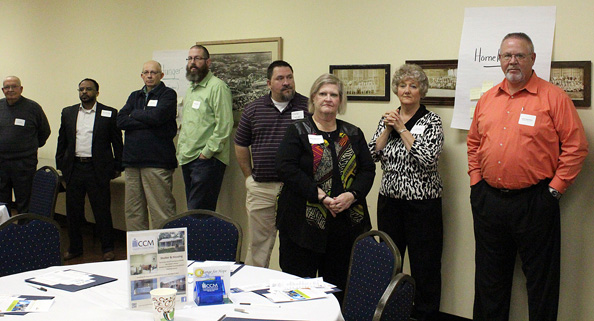 Article and Photo by Michael Knox | This email address is being protected from spambots. You need JavaScript enabled to view it.
Posted: Sunday, February 2, 2014 7:56 am
KANNAPOLIS, N.C. — With many people looking for work and families struggling through a tough economy, many faith-based organizations are finding people leaning on their services more and more. But quite often, many churches are working on their own, not aware of what other churches are doing and how they could partner together.
Click here for the entire story
For more pictures of the Kannapolis Area Pastor-Leader Breakfast click here click here.
Youngsters collect, donate 400 pounds of food
8/2/2013 3:00 PM
By Lukas Johnson on www.charlotteobserver.com
Concord sisters Ava and Riley McDermott were the first children to donate to the Cooperative Christian Ministry's "Kids Can Too" challenge, and they've set the bar pretty high.
They've donated nearly 400 pounds of goods and raised $100.
Click here to read the entire story on the Charlotte Observer website.
Photo caption: Riley, left, and Ava McDermott of Concord were the first kids to donate to Cooperative Christian Ministry's "Kids Can Too" Challenge, which asks kids to donate at least 100 cans of food. The sisters set the bar high, collecting nearly 400 pounds of food and raising $100. CCM's second annual summer food drive started a month early. because of demand. It runs through August.
CCM Pantry Hard-Pressed to Fill Food Stamp Gap
6/17/2013 3:00 PM
By Karen Cimino Wilson
CONCORD, N.C. -- Regina Phifer said she hasn't received her monthly $103 allocation from the Food and Nutrition Services program, formerly known as food stamps, since April so on Friday she went to a local food pantry for help bridging the gap.
A new computer program called N.C. Fast that has the potential to eventually streamline services offered by Departments of Social Services statewide is causing lots of problems for individuals and local charitable organizations in the short-term.
Click here to read the full story on the Independent Tribunte website.
Concord Crisis Ministry Begins Summer Food Drive
06/17/2013 05:58 PM
By Jenna Barnes
CONCORD -- The calendar still says spring, but the summer food drive is already underway at the Cooperative Christian Ministry Crisis Center in Concord.
"We need a lot of donations," said volunteer Alex Barnhardt.
With shelves already bare, the ministry is starting the drive a month earlier than normal.
Click here to see the full story on the Carolina News 14 website.
CCM Conducting Summer Food Drive
6/11/2013 2:59 PM
By Salisbury Post
CONCORD – With many families still struggling to put food on the table, Cooperative Christian Ministry is serving record numbers through its Crisis Center and satellite pantries. In May, all of the pantries set monthly records for households served, individuals served and pounds of food distributed. At the Concord Crisis Center, the number of households served is up 33 percent from May 2012.
Click here to read the full article on the Salisbury Post website.
Concord Food Pantry in Need of Donations
06/03/2013 05:26 PM
By: Kate Gaier
CONCORD -- Cooperative Christian Ministry in Concord is running out of food, with only two weeks worth in stock. The crisis center pantry helps put food on the table for hundreds of people in need. And that need is only increasing heading into the summer months.
Click here to read the full story on Carolina News 14 website.