CCM in the News
Love, Shoemaker Join Staff at CCM
CONCORD – Cooperative Christian Ministry announced this week that Glenn Love has joined the nonprofit crisis ministry as Director of Development. CCM has operated without a Director of Development since 2013. In his new role, Glenn will help CCM to educate groups, businesses and individuals regarding the ministry's response to identified crisis needs, build relationships that will provide support for the ongoing programs and increase CCM's ability to respond to changing needs within the community.
Glenn will lead CCM's Development Team and guide the ministry's Resource Development Plan to provide the resources necessary to accomplish CCM's strategic goals in the community.
"Glenn joins CCM with more than 10 years serving Cabarrus County in leadership development, marketing and fundraising," says CCM Executive Director Ed Hosack. "We are very pleased that he has chosen to be a part of Cooperative Christian Ministry."
"It is a huge honor for me to be invited to join the staff at CCM," says Glenn. "For the last several years, I've watched this ministry grow in its impact on our community. I am absolutely thrilled to now be a part of the team to help CCM continue to grow and help even more people going forward."
In addition, CCM has added Chris Shoemaker to the Development Team as Business Relationship Specialist, a growing area of development within Cabarrus County. Chris also has many years of experience in our community and a keen awareness of our community's needs and resources. Chris will focus her attention on educating and engaging the business community in ways they can impact our neighbors in need.
"CCM is committed to strengthening our position in the community so that we can be more responsive to our communities needs and to help build our local network of services," says Hosack. "Glenn and Chris are proven leaders in our community who will contribute greatly to CCM's mission and goals for our community."
To reach Glenn, call 704-706-9049 or email This email address is being protected from spambots. You need JavaScript enabled to view it. . To speak with Chris, call 704-918-1485 or email This email address is being protected from spambots. You need JavaScript enabled to view it. .
Summer Food Drive Begins June 15th
More than one in four children in North Carolina struggle with hunger.
During the summer, that struggle gets even harder, as only one of seven students who receives a free or reduced price lunch during the school year will get lunch on any given summer day. Programs like Kannapolis City Schools' free summer lunch program for those under 18 help, but families will still struggle and look to organizations like Cooperative Christian Ministry for assistance.
Food Program Manager Barry Porter estimates that approximately 40 percent of the individual clients served from CCM's feeding programs are under 18 and many do not know from where their next meal will come.
"Families are still struggling to choose between keeping the power on and buying groceries," says Porter. "CCM is here to help make the grocery budget stretch a little further, allowing families to do both."
To offset the low numbers of non-perishable food items available at the CCM pantries in the summer – including 9 satellite pantries and the Crisis Center pantry – CCM is hosting their third annual Summer Food Drive. Non-perishable food items, including canned and boxed goods, can be brought to any of the CCM pantries as well as drop-off locations at businesses throughout the community.
Kannapolis and Concord Cannon Pharmacy locations; Concord and Kannapolis F&M Bank branch locations; and the Concord-Kannapolis Independent Tribune will be drop-off locations for food items this summer. Simply bring non-perishable food items to these businesses to help refill the pantries at CCM. Glass jars are not recommended, due to the possibility of breakage during transport. (see attached list for a complete list of locations)
In conjunction with the Summer Food Drive, CCM is also hosting two special challenges. The Kids CAN too! challenge offers kids the chance to collect canned food and receive a special prize by bringing them to the CCM Crisis Center. The 1,000 Can Challenge is being offered to churches to raise 1,000 cans of food for CCM through their congregations.
2015 CCM Summer Food Drive Drop-off locations
The 2015 drop-off locations for the CCM Summer Food Drive are:
·
F&M Bank, 2975 Dale Earnhardt Blvd., Kannapolis
·
F&M Bank, 635 Church St. N., Concord
·
Cannon Pharmacy, Kannapolis Main, 1706 S. Cannon Blvd., Kannapolis
·
Cannon Pharmacy, Kannapolis North, 1402 N. Cannon Blvd., Kannapolis
·
Cannon Pharmacy, Concord, 760 Cabarrus Ave. W., Concord
·
Independent Tribune, 363 Church St. N., Ste. 140, Concord
.
CCM Food Pantries will also be accepting food donations.
Locations and hours are:
·
CCM Crisis Center, 246 Country Club Dr., Concord.
9 a.m. to 4 p.m. Monday, Tuesday,
Thursday and Friday; 9 a.m. to 1 p.m. Wednesday.
·
Bethel Baptist Helping Hands Food Pantry at Bethel Baptist Church, 1209 ¼ Opal St., Kannapolis.
9 a.m. to 1 p.m. Monday and Thursday.
·
Cupboard of Love Food Pantry at Westford UMC, 273 Hwy. 49 S., Concord.
8:30-11:30 a.m.
Saturdays.
·
Kannapolis Food Pantry at West Point Baptist Church, 1100 Pine St., Kannapolis.
8:30-11:30
a.m. Saturdays.
·
Christian Hearts Food Pantry at Oak Ridge Baptist Church, 5340 Flowes Store Road, Concord.
8:30-11:30 a.m. Saturdays.
·
North Kannapolis Baptist Church Food Pantry, 312 Locust St., Kannapolis.
9 a.m. to 12
noon Wednesdays.
·
New Life Baptist Church, 1281 Biscayne Dr., Concord.
10 a.m. to 2 p.m. Tuesdays and
Wednesdays.
·
TB2G Food Pantry at Pine Bluff UMC, 11000 Reed Mine Road, Midland.
Call 704-888-3090
for appointment.
·
Charity Baptist Church, 2420 Brantley Road, Kannapolis.
Call 704-938-7668 for
appointment.
Pam Smith Receives Guiding Light Award
St. John's Masonic Lodge in Kannapolis honored CCM's Pam Smith with its "Guiding Light" Community Service Award.
Smith is the second recipient of the award, which is presented annually to local outstanding service leaders in the community.
Pam was recognized for her outstanding work with the Carver Area Historic Preservation Association (CAHPA) and Cooperative Christian Ministry Mothers & Children Housing Program.
"We were blown away by the work she's done in our community," said Addul El Ali, Worshipful Master of St. John's Lodge.
Pam accepted the award May 15th at St. John's Lodge's award banquet and art auction. The banquet was attended by community and business leaders and members of the community.
CCM's Executive Director, Ed Hosack spoke of Pam's leadership at the event.
In addition to celebrating Mrs. Smith, St. John's Lodge celebrated 66 years of service in the community.
"We are really thankful for all those who came out to support Ms. Smith," Ali said.
Local artist Bill Smith donated two pieces of art for the auction entitled "Movies at Carter" and "Kansas Sky." The proceeds of the banquet and art auction benefitted the Carver Area Historic Preservation Association and St. John's Lodge Building Fund.
"The impact of a leader is not what they accomplish in life but what others accomplish as a result of having known them." Mr. Hosack said.
"Pam embraced a vision for serving single mothers who are facing homelessness and she has created a ministry that provides safety, stability, hope and a future for women and children," he added.
Part 1: Homeless families get a fresh start through CCM
Posted: Sunday, July 20, 2014 11:13 am | Updated: 9:03 am, Mon Aug 4, 2014.
By Joanie Morris Reeder Special to the Independent Tribune
Photos courtesy of James Nix (Independent Tribune)
First in a three-part series

The first blow came in 2003 when Pillowtex shut down, resulting in the largest mass layoff in the history of North Carolina. Then, the collapse of the financial and housing markets in 2008 contributed to Cabarrus County having the highest percentage increase of home foreclosures in the state. Unemployment soared and remained high for years.
And families lost their homes.
Cabarrus County's annual Point-In-Time count of homeless people has shown significant increases in the number of homeless in the community year after year. Most alarming is the rate at which the number of homeless families continues to rise.
Part 2: CCM's Teaching Housing gives hope to homeless families
Posted: Monday, July 28, 2014 7:33 am | Updated: 9:03 am, Mon Aug 4, 2014.
By Joanie Morris Reeder Special to the Independent Tribune
Photos courtesy of James Nix (Independent Tribune)
Second in a three-part series
The gift of a home to Cooperative Christian Ministry's Teaching Housing Program is about more than the physical structure. For working homeless families in the program, it's about dignity, stability and recovery.
No parent chooses to be homeless. Circumstances have thrust these families into the situation they find themselves in. Loss of employment, divorce or other causes are all cited as reasons for homelessness in family situations. The most recent Point-In-Time count of homeless individuals in Cabarrus County showed a 28 percent increase in homeless families with children – 219 homeless people in families with children this year compared to 171 last year and 137 in 2012.
The Point-In-Time Count, because of definitions established by the U.S. Department of Housing and Urban Development, does not include families who are "doubled-up" due to loss of housing. Cabarrus County and Kannapolis City schools report more than 300 students (not counting other family members) who are homeless. CCM estimates there is little duplication between the number of homeless students from the school systems and the Point-In-Time Count numbers because those families are living "doubled-up" or in hotels, and the Point-In-Time Count addresses families in shelters and other places not intended for human habitation.
Part 3: CCM's Teaching Housing program counts on community help
Posted: Monday, August 4, 2014 8:59 am
By Joanie Morris Reeder Special to the Independent Tribune
Photos courtesy of James Nix (Independent Tribune)
Third in a three-part series
Cooperative Christian Ministry's innovative Teaching Housing Program, which lifts families from homelessness to hope, wouldn't be possible without the support of a big-hearted community.
There are three ways CCM obtains homes for the program. The very first Teaching House, started in 2008, was offered on a $1 per year lease for three years by a local landlord. SunTrust Bank sponsored the renovation, and a working homeless family was sheltered in Kannapolis.
It's still done this way today – homeowners can lease homes to CCM for the organization to use for the Teaching Housing Program. Leases are usually offered on a 3-5 year term with CCM.
CCM also has partnerships with the city of Kannapolis and other local government agencies where homes are offered, renovated and used in the program. Participating families have a chance to purchase the homes through a federal program managed by the city.
CCM Director taking hard-earned sabbatical
Photo by James Nix \ This email address is being protected from spambots. You need JavaScript enabled to view it.


Posted: Sunday, March 16, 2014 8:21 am | Updated: 7:48 am, Wed Mar 19, 2014.
By Jessica Groover Pacek | This email address is being protected from spambots. You need JavaScript enabled to view it.
Jessica Groover Pacek
Posted on Mar 16, 2014by Jessica Groover Pacek
KANNAPOLIS – After nearly 10 years devoted to directing and expanding Cooperative Christian Ministry's caring reach into the community, Ed Hosack will begin a three-month sabbatical on April 7.
Sabbaticals are often taken by leaders of churches and professionals in the health care and education fields, but not often by leaders in the local nonprofit world, said Hosack, executive director of Cooperative Christian Ministry (CCM).
"The news over the last couple of years has been filled with nonprofit executives being burnt out and leaving their posts," Hosack said. "I think the sabbatical is a proactive way to keep strong leadership in the nonprofit sector and to develop new leadership within the nonprofit sector."
Hosack said taking three months to rest, travel, read and study, among his other plans, was not his idea, though.
"This is something our board of directors proposed and provided to me," Hosack said. "I consider it a gift."
CCCF Awards $5,000 Grant to CCM's Project Independence
February 24, 2014
CCCF Awards $5,000 Grant to CCM's Project Independence
CONCORD – Cooperative Christian Ministry (CCM) announces today it has received a $5,000 grant from the Cabarrus County Community Foundation for CCM's Project Independence. CCM's network of shelter and housing opportunities through My Father's House, the Mothers & Children Housing Ministry and Teaching Housing program assisted more than 43 households comprised of 137 individuals last year in Cabarrus and southern Rowan counties. The grant from the Cabarrus County Community Foundation will be used in CCM's Teaching Housing Program to provide shelter and housing as well as supportive case management.
"CCM will continue to expand on our existing shelter and housing services and explore opportunities to create new resources in our community," says CCM Executive Director Ed Hosack. "The Cabarrus County Community Foundation is a faithful partner made up of committed decision-makers who know our community. Gifts like this one, dedicated to addressing the housing crisis in our community, are critical for developing new solutions."
Cabarrus County Homeless Point-In-Time Count
CONCORD – Cooperative Christian Ministry will coordinate the Cabarrus County Homeless Point-In-Time (PIT) Count again this year on Wednesday, Jan. 29 and Thursday, Jan. 30. Several Cabarrus County agencies will participate, counting individuals in the county who are homeless on the night of Jan. 29, 2014.
David Maulden, CCM's director of Shelter & Housing, who is coordinating this year's count, said the information collected about the homeless population in this one night will help track progress towards goals to end homelessness, as well as provide information about homelessness to local, state and national leaders. "We consistently do it the last Wednesday of January so that over the years, we can get an accurate snapshot of the homeless population and how it changes," said Maulden. He does not expect to see an improvement over last year's numbers. Last year showed a 54 percent increase in the identified population – a jump from 183 in 2012 to 283 in 2013. Yearly changes allow organizations to see trends developing that may not be seen in regular counts.
"Our Point-In-Time counts for the last five years have indicated a dramatic increase in the number of homeless families and have influenced CCM's development of programs to serve those families," said Executive Director Ed Hosack.
Pastor Breakfasts Foster Church Cooperation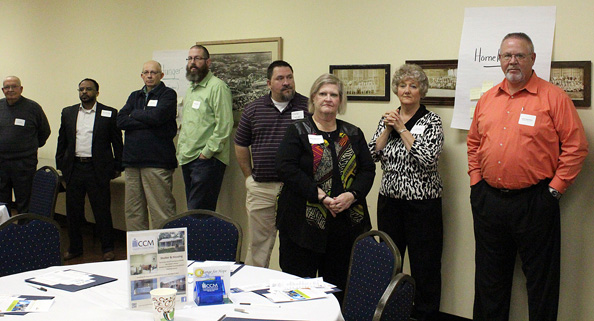 Article and Photo by Michael Knox | This email address is being protected from spambots. You need JavaScript enabled to view it.
Posted: Sunday, February 2, 2014 7:56 am
KANNAPOLIS, N.C. — With many people looking for work and families struggling through a tough economy, many faith-based organizations are finding people leaning on their services more and more. But quite often, many churches are working on their own, not aware of what other churches are doing and how they could partner together.
Click here for the entire story
For more pictures of the Kannapolis Area Pastor-Leader Breakfast click here click here.
Youngsters collect, donate 400 pounds of food
8/2/2013 3:00 PM
By Lukas Johnson on www.charlotteobserver.com
Concord sisters Ava and Riley McDermott were the first children to donate to the Cooperative Christian Ministry's "Kids Can Too" challenge, and they've set the bar pretty high.
They've donated nearly 400 pounds of goods and raised $100.
Click here to read the entire story on the Charlotte Observer website.
Photo caption: Riley, left, and Ava McDermott of Concord were the first kids to donate to Cooperative Christian Ministry's "Kids Can Too" Challenge, which asks kids to donate at least 100 cans of food. The sisters set the bar high, collecting nearly 400 pounds of food and raising $100. CCM's second annual summer food drive started a month early. because of demand. It runs through August.
Concord Crisis Ministry Begins Summer Food Drive
06/17/2013 05:58 PM
By Jenna Barnes
CONCORD -- The calendar still says spring, but the summer food drive is already underway at the Cooperative Christian Ministry Crisis Center in Concord.
"We need a lot of donations," said volunteer Alex Barnhardt.
With shelves already bare, the ministry is starting the drive a month earlier than normal.
Click here to see the full story on the Carolina News 14 website.